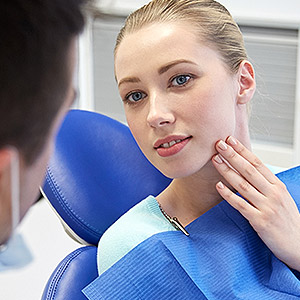 For years people tuned in to enjoy one of David Letterman's "Top 10 lists," a frequent gag performed on his show Late Night. Each countdown list poked fun at off-the-wall topics like "Top 10 New York City Science Projects" or "Top 10 Questions People Ask when Shopping for an Umbrella."
Recently, the American Dental Association presented their own kind of list—"America's Top 3 Oral Health Problems"—based on surveys of around 15,000 people across the U.S. But unlike the popular Late Night lists, this one is no laughing matter.
Coming in at #3, 29% of the respondents indicated they had experienced tooth pain at some time in their life. Tooth pain is the body's way of alerting to trouble in the mouth, anything from a decayed tooth to a gum abscess. The best thing to do if you have any persistent oral pain is to see your dentist as soon as possible for a thorough examination. And you should do this even if the pain goes away.
The second most prominent oral problem among people is difficulty biting or chewing, about 31% of those in the surveys. As with tooth pain, the reasons can vary greatly, including cracked, loose or deeply decayed teeth, dentures or jaw joint disorders (TMD). Because dental disease is usually the ultimate culprit, the best way to avoid this is to practice daily brushing and flossing and regular dental visits. And, as with tooth pain, you should see your dentist if you're having symptoms.
At 33% of respondents, the number one oral problem in America is chronic dry mouth. It's a constant inadequate flow of saliva often caused by medications or certain systemic conditions. Because saliva helps protect the mouth against infection, a restricted flow increases your risk of disease. If you notice your mouth is dry all the time, you should talk to your dentist about ways to boost your saliva. If you're taking medications, ask your doctor if they could be causing your symptoms and if you could change to something else.
While any of these Top 3 oral problems can be a stepping stone to more serious dental problems, it doesn't necessarily have to lead to that. You can improve your dental health through daily oral hygiene and regular dental treatment. And it might help you stay off this unpleasant list.
If you would like more information on treating dental disease, please contact us or schedule an appointment for a consultation. You can also learn more about this topic by reading the Dear Doctor magazine article "Top 3 Oral Health Problems."