My Blog
Posts for: November, 2014
By Eastman Family Dental Center
November 26, 2014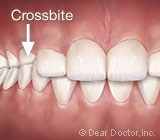 There's more to orthodontics than simply moving teeth. Especially with children and adolescents, we also want to guide the development of the entire facial structure to solve certain types of malocclusions (poor bites).
One such concern involves the upper jaw and palate (roof of the mouth), known collectively as the maxilla. In some individuals, the maxilla is narrower than normal. This causes the upper teeth to fit abnormally inside the lower teeth when occluding or "biting down" and is known as a cross-bite. A cross-bite may restrict the amount of space for your teeth to erupt (appear in the mouth) in proper alignment. It can be so severe the individual may have to shift the jaw to one side to completely bite down.
If a cross-bite is caught early, there's a non-surgical treatment to widen the maxilla and help prevent upper teeth misalignment. But there's a limited time window of opportunity: this is because the maxilla is actually formed by two bones with a seam that runs down the middle of the palate. The two bones will eventually fuse, usually at the beginning of puberty; until then there's a slight separation.
Before the bones fuse, we can use a palatal expander to widen this seam and encourage permanent bone growth in the resulting gap. The expander is made of two metal halves joined in the middle by a small screw device that fits between the teeth. You or your child turns the screw a very small amount once or twice a day with a special key and the action pushes the maxilla outward on either side: the slight tension created stimulates bone growth. Over time, the new bone will have added width to the maxilla and eliminated the cross-bite.
While it's possible to correct this after the maxilla fuses, it will require surgery to separate the bones. The palatal expander helps us correct the problem in the most non-invasive way possible, but it must be done before puberty. Discovering this type of malocclusion early is one of many reasons why regular dental visits should be an important part of your child's healthcare.
If you would like more information on palatal extenders, please contact us or schedule an appointment for a consultation. You can also learn more about this topic by reading the Dear Doctor magazine article "Palatal Expanders."
By Eastman Family Dental Center
November 11, 2014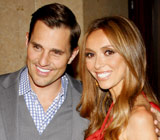 For some kids, having a cavity or two is just part of growing up. Not for Giuliana Rancic. When she was a child, the TV personality didn't have a single cavity — and she still doesn't. But for her husband Bill, co-star of the Style Network reality show Giuliana and Bill, it was a different story. A cavity-prone kid, he was never certain what a visit to the dentist might hold in store. "I can still remember the anticipation," he recently told Dear Doctor magazine. "I always hoped I would get out of the checkups without a cavity!"
Why do some people get more cavities than others? There are a number of factors at work, but to understand it better, let's look at how tooth decay occurs.
How Cavities Form
Cavities — also called dental caries — are small pits or holes in the teeth that are caused by tooth decay. Tooth decay itself is a chronic disease that can flare up when plaque isn't kept under control. A thin, bacteria-laden film, plaque sticks to tooth surfaces both above and below the gum line, and can build up in the absence of effective oral hygiene.
Of course, everyone has bacteria in their mouth, both "good" and "bad" (pathogenic) types. But when the bad guys outnumber the good, trouble can start. When you consume sweets, plaque bacteria process the sugars and release acid as a byproduct. The acid eats into tooth surfaces, causing decay — and cavities that need filling. Left untreated, decay can work its way into the tooth's pulp, resulting in infection and pain. Eventually, treatment might involve a root canal — or, in the worst case, extraction.
What can you do if you seem to be prone to cavities? One effective way to fight tooth decay is by maintaining good oral hygiene. Brush at least twice daily, for at least two minutes each time. Use a soft-bristled brush and a dab of fluoride toothpaste to clean all around your teeth. Most importantly, floss above and below the gum line, every day. And just as important, don't forget to have regular dental checkups every six months.
A Healthy Balance
Another cavity-fighting strategy is eating a balanced diet. Avoid soda, sugary "energy" drinks and sweet treats — but if you choose to consume sugar, have it with meals instead of between meals. This will give your saliva, which has natural cavity-fighting properties, a chance to work.
"It's all about maintaining a healthy balance," Giuliana told Dear Doctor. And Bill agrees: "I love nuts and fruit for a healthy snack," he said, adding that he's meticulous about brushing and flossing. And when the couple smiles, you can see how those healthy habits pay off.
If you would like more information on preventing tooth decay, please contact us or schedule an appointment for a consultation. You can learn more about this topic in the Dear Doctor magazine articles "Tooth Decay" and "Tooth Decay – How To Assess Your Risk."